Corporate Philosophy Approach to ISO


Seeking Truth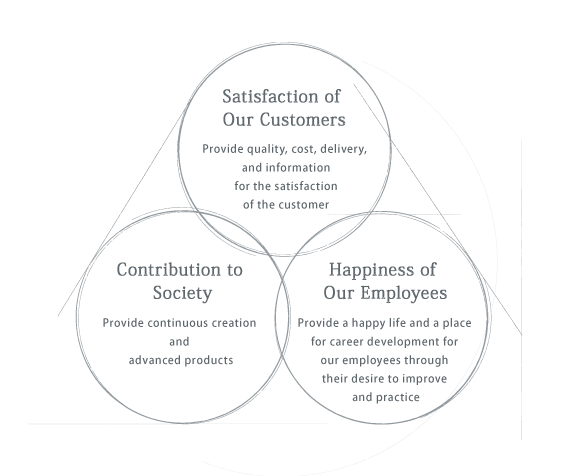 1. Thinking of our own growth
with a goal in mind, act with passion and obsession.
2. Thinking of cooperation with people
act with mutual trust with the company, customers, suppliers, colleagues and people from local community.
3. Thinking of customers' expansion
act with creative mind and technology by which consulted by customers.
4. Thinking about safety and health
aiming at pleasant working atmosphere, act aggressively for improvement.
5. Thinking about cheerful company climate
act with "report", "communication", "consultation" and "sounding" by respecting each other's individuality in frank working place.
6. Thinking of environmental change
taking change in advance, act with flexibility.
7. Thinking of Mate flying ahead to the world
act with global point of view.

◎Quality Management System ISO9001
1. With mind of quality uplift and improvement, provide customer satisfactory quality,
   pricing, delivery and information.
2. By getting customer's requirement adequately and by continuous creation and
   activity, provide new products to contribute to the society and environment.
3. Endeavor to form our character and uplift capability and establish certain trust with
   customers by sincerity, technology and quality.
4. Standing at global point of view, aim to being the world Only One of composite
   materials by flexible imagination and strong will.
In order to achieve the Quality Policy, promote the following activities.
Meet customer's and legal requirements, review quality and service consistently, and practice seamless improvement on Quality Management System.
Set quality goal in each process and review it regularly to make the activities connected to accomplishment.
Try hard to keep entire organization informed of Quality Policy.
Review Quality Policy to maintain appropriateness.

◎Environmental Management System ISO14001
[ Principle ]
Our mission is to make contributions to the society by making use of our technology to design and develop magnetic and composite materials and to manufacture and mold compounds.
In addition to that, we also have to protect the environment where people can live a safe and healthy life. Being aware of these missions, all staff of MATE will continue making efforts and improvements to achieve harmony with the environment, and thereby contribute to the sustainable "coexistence with the environment."
[ Policy ]
≪Basic Attitude≫
In order to prevent and minimize impacts and loads to be applied on the environment and to protect the lives and properties of our customers, local residents and employees, MATE will constantly review our business activities, products, facilities and technology services and continue improving its environmental management system.
≪Compliance with legal and other requirements≫
MATE will comply with Japanese and overseas legal requirements related to the environmental protection and safety. The requirements we should comply with include in-house rules that have been defined in consideration of requirements from interested parties, such as users, and requirements from society.
≪Key points for environmental preservation activities≫
To prevent global warming and environmental pollution and to promote effective utilization of resources and disaster prevention activities, MATE will put into practice the followings.


(1) Keep on making efforts to save energy and resources and to promote recycling throughout the life cycle of our products by making use of our ingenuity, effort, and technologies.
(2) In addition to promoting the appropriate management and handling of waste, reduce waste to be generated.
(3) Seek harmony with the surroundings and prevent the generation of dust, offensive odor, noise,and water pollution to protect the environment.
(4) Take part in greening activities and other regional environmental preservation activities to achieve more harmony with local residents and the community.
(5) Provide products and technologies contributing to energy saving and recycling and promote resource saving by further sharpening our ingenuity and by continuing the development of new services.
(6) In addition to promoting accident prevention measures, provide educations and training to all workers to prevent damages on environment caused by fires, explosions and leakage accidents.
(7) Being aware of the great impacts of chemical substances on human health, safety and the environment, prevent contamination by chemical substances to protect the environment.

≪Setting environmental targets≫
MATE will set environmental targets toward the achievement of its environmental policy,and make a concerted effort to push ahead with improvement activities systematically.In addition,it will review the environmental target periodically to make adjustments if necessary.
≪Promoting education and awareness-raising activities≫
MATE will make the environmental policy known to everyone and provide enhanced environmental educations to raise the environmental awareness of all employees
≪Promoting information disclosure≫
MATE will disclose information proactively to interested parties, including users, contractors and local residents, and facilitate communication with them to seek understanding and cooperation to its environmental policy. The environmental policy will be made known publicly both within the company and to the outside

January 5, 2017
President Shuji Akaiwa