Hold 5th award ceremony of environmental work contest
2011.10.12
We hold 5th award ceremony of environmental work contest from 13:00 on Oct. 12, 2011 (Wed). We invited essays and posters with the theme of environmental issue from students of primary school and junior high school in Wake town. Until now, we invited only from the former Saeki town but we enlarged to the whole Wake town. Then, we received 129 posters and 109 essays. We commended 8 highest awards, 16 awards for excellence and 14 encouraging awards to the both categories.
Those works awarded are posted in Saesta in Wake town until Nov. 1, 2011.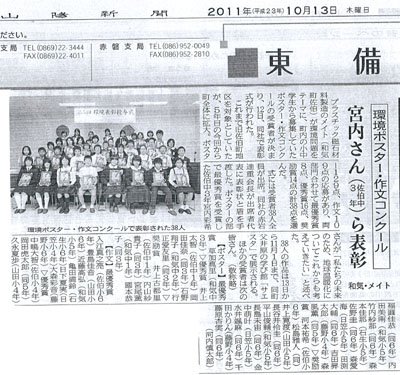 Note : The contents shown here is the one as of the date of announcement. Please be noted that It may be changed without notice.